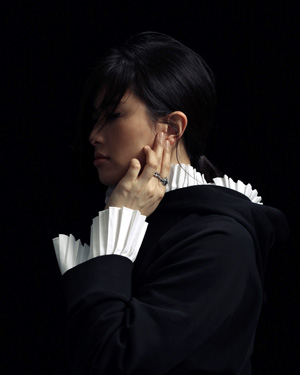 Anna Lo
盧宜均
Composer, songwriter, arranger, pianist, singer and conductor
Anna Lo is a composer, songwriter, arranger, pianist, singer and conductor, currently working both behind the scenes and as a performer.  She began her classical music training at the Hong Kong Academy for Performing Arts at the age of 6, where she studied piano and oboe.  Also trained in non-classical music, she graduated from Berklee College of Music in 2010 with a degree in Contemporary Writing and Production. Prior to Berklee, she graduated from Massachusetts Institute of Technology in 2008 with a double degree in Linguistics and Philosophy and Music and Theater Arts, and was recipient of the 2008 Louis Sudler Prize in the Arts.
Since 2012, Anna has taken part in a number of musical theater productions.  She both orchestrated and conducted the first run of musical theater/film composer Leon Ko's "The Passage Beyond in Concert" in 2012 in Guangzhou, and in 2014 re-orchestrated for the show's critically-acclaimed second run with the Hong Kong Sinfonietta.  Anna also works in other areas such as dance and theater, some highlights being "Shao Nian Yau" with Hong Kong Dance Company and Yuri Ng in 2015, in which she acted as music director and composer, and "Good Music @ The Fringe with Chu Pak-him & Friends" with HK Sinfonietta also in 2015, in which she was musical director, arranger and performer.  She was also composer and music director for the theater piece "Sentimental K" in 2015 and "Bear-Man" in 2016 with Theatre Ronin.  Anna made her first foray into film composing in 2016 for the documentary "She Objects" which was winner of the Scientific & Education Award at Nice Film Fest International 2017. Anna was also the orchestrator and conductor for Hong Kong Repertory Theatre's renowned musical "Field of Dreams" which was staged both in Hong Kong and Beijing in January and April 2017 respectively.
Anna is an avid a cappella singer and a prolific a cappella arranger/composer. During her time at MIT, she was the Musical Director of The Chorallaries of MIT, MIT's award-winning co-ed a cappella group. She joined a cappella/theater group Yat Po Singers on stage in "Our Immortal Cantata", as part of the 2014 New Vision Arts Festival lineup, as well as the group's 2016 production "Requiem HK" in which she played a major role. She also took part in the rerun of "Our Immortal Cantata" in 2016 in Taipei, Hong Kong and Shantou, which received three awards at the Drama Awards 2017 by Hong Kong Federation of Drama Societies, including "Outstanding Production of the Year". In 2017, she created and composed a new a cappella theater production "Save the Next Song for Me" for Yat Po Singers, which was premiered in March/April. Besides, she joined Yat Po Singers on stage again in 2017 in its rerun of "Rock Hard" and is set to revive her role in "Requiem HK" 2018 rerun with the addition of the City Contemporary Dance Company. She has also been a core member of a cappella group Cantone since 2015 and VSing since 2017, and has performed numerous times at corporate and charity events.
As a singer, Anna also works in pop, and has performed and recorded backup vocals for singers such as Leon Lai, Kelly Chen, Andy Hui, Miriam Yeung, Janice Vidal, Justin Lo and William So. She gave her first concert "re.Kindle" in August 2016 as part of the "Beyond Good Music @ the Fringe" concert series held by Hong Kong Sinfonietta.  She also launched her first EP "K" in August 2016 and subsequently produced five music videos from the EP. Her second solo concert "ACA-ANNA" was sponsored by Tencent Music Entertainment Group and was held in September 2017.  Live-streaming over Tencent's various platforms, the concert amassed over 500,000 viewers.